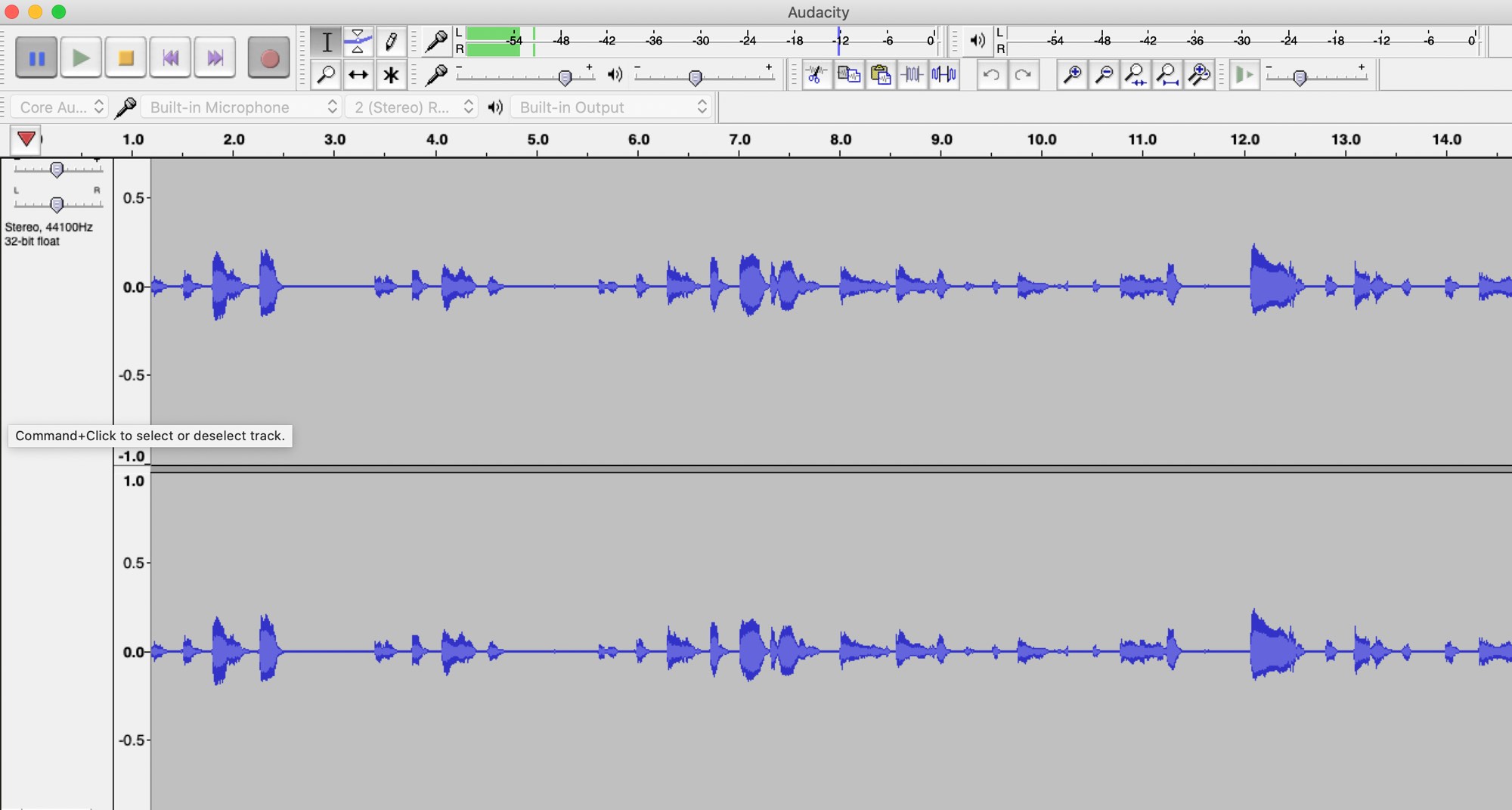 Editing a podcast in Audacity
TechBrew podcast 10 years on. Who survived?
First published on October 5, 2020 by Gilbert West. Context is important.
I used to record a podcast with my partner in crime, Andrew Matheson. We both lived in Brussels at the time and kept a close eye on the Belgian tech startup scene. We liked what we saw and wanted to showcase some of the startups we encountered to the wider English-speaking world. That's how we became amateur podcasters and friends. That was nearly 10 years ago and I thought now would be good time to look back and see which companies had survived, which had thrived and which had fallen by the wayside. For 3 years we interviewed founders and created 37 episodes, most of which are available in my Dropbox. We gave the website, the Apple podcast listing and the domain name a digital funeral last year, but you'll find the link to the recordings at the end of this article.
The idea was simple. We called it TechBrew. Each episode we'd crack open a beer we'd never tried before ( easy to do in Belgium ) and share a glass or two with the founders of a local startup. Our setup was super low budget. The first episode, in which we interviewed Davy Kestens, was recorded in the cafe area of an ongoing conference by pointing a first generation iPad in the direction of whoever was talking. We then started to use the private meeting rooms at a coworking space, usually after close of business because Andrew had a proper job. It also reduced the background noise of people running up and down the steel staircases above the meeting rooms.
The tech
We graduated to a proper Snowball microphone and eventually everything was recorded direct to a MacBook Air using the mic. Eventually we were practiced enough to know when to take photos for the blog posts that accompanied each episode. We would even make sure we got every, psssst, of a bottle opening and would exaggeratedly clink the glasses and bottles from time to time for "ambiance".
We were not professional hosts by any stretch of the imagination and our interviewees had to think on their feet in English. Not usually a problem for most Belgians, but still an admirable feat. How many interviews did you give in French or Dutch this week, dear English speaker? To make things a little easier on our guests, we'd actually do the first half of the show twice. First we'd get people warmed up with a beer and we'd start asking the usual questions. Then about 20 minutes into the meeting, we'd say, "OK, let's start recording.", and go back to the start of the interview. That way the interviewee had already gone through each question, was more relaxed and knew what to expect.
Andrew wrote up the blog posts and I edited the audio and usually sourced the startups. We both sourced the beers. My first job that didn't involve working in a shop, was listening to audio recordings of Arabic texts and slicing them up so that every individual word was a discrete sound file. These were used to develop an early language-learning programme in HyperCard where the users could read the text on screen and should they choose to, could click on a word and hear it read out loud. Trust me, this was very cool stuff back in 1989. Anyway, it stood me in good stead to be able to stare at a waveform of our audio recording and quickly figure out where all the "ums" and "ehs" were so I could cut them out. If someone messed up during the recording and wanted to redo something, we'd just pause for 5 seconds then slap the table. This creates a very potent visual indicator as the waveform flatlines and then looks scarier than a spike in covid cases.
The brew
Over the years, Andrew and I became quite the beer connoisseurs. I don't drink anymore unless someone presents me with a beer I've never had or the occasional whiskey. I've sampled over 900 different beers so the occasion doesn't arise very often. We didn't drink that much back then either to be honest. We were more interested in ticking things off the list like a collector. I have a fond memory of the bar guys at La Porte Noire suggesting to Andrew and I that we may want to go home as it was 4.30am and they were starting to clear up around us. "How come you guys know more about beer than most Belgians?", they asked us as we requested more and more obscure bottles.
Usually we brought the beer and the founders brought the inside story, but class act, Vincent Theeten of CHEQROOM, brought us 12 Westvleteren complete with glasses. The final 4 episodes were actually recorded in one marathon session where we booked a hotel meeting room via a friend of Andrew's and sat with a wide selection of beers arrayed on the table, letting the guests choose whatever they wanted. Needless to say, by the end of the day we were well oiled but it was a nice way to close the series down.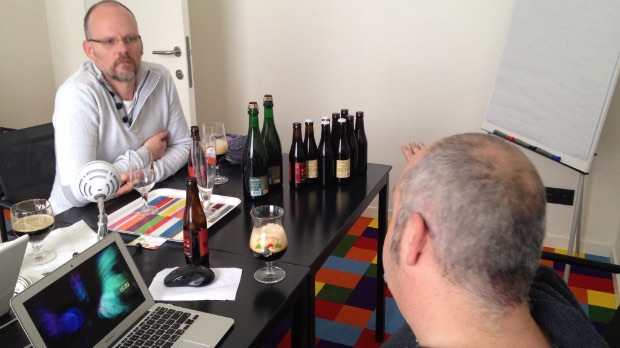 David Hachez making a mental note not to go to the same barber as me
That's quite a lot of talk about beer. What about the startups? Well surprisingly they seem to have bucked the "90% fail trend" and more than half of them are still in existence in some form or had some kind of exit for the founders. Let's dig into the details.
The stats
OK, so we created 37 episodes, but some of these were about events and some people we interviewed twice. So by my count we actually interviewed 29 startups. 15, YES, 15 of them have survived in some form. Some of the founders have exited and started other new successful companies and one or two have gone all Jack Dorsey and are CEOs to more than their original startup.
The survivors
In order of appearance on the show ...
Twickets, which went on to become TwitSpark and then finally morphed into SparkCentral is still going strong, but their founder Davy Kestens is now Founder & CEO of Fintech, Cake.
WooRank - We watched WooRank go from Jean Derely and a couple of developers on day one to a company that was having to move office in the incubator every few months because it seemed like they added a new employee every week. Woorank were interviewed twice. Jean is off somewhere else angel investing now.
Mobilosoft - Yup, Mobilosoft is still going and has gone global. One of their original founders, Georges-Alexandre Hanin, is still the CEO.
Mobile Vikings - The first Belgian phone company to figure out it would all be about data is still going strong.
Prezly - The PR software company is still going and growing and retains much of the original founding team. One of the original team, Fred Vincx, left and now uses his service design skills in elderly care.
Which gives me a nice segue to Data.be as Fred was on the Startup Weekend team that later went on to incorporate as Data.be. The driving forces behind Data, Toon Vanagt and Eric Rodriguez are still there, scraping Belgian institutional data into the modern age. Not content with the pain of structuring business into they branched out into jurisprudence and created Lex.be and added another Erik (De Herdt) to the team.
D-Sight - This ULB spin-off specialized in collaborative decision-making made it and has some big name customers.
Soonfeed - A product doesn't seem to have survived, but Richard is still around using the Soonfeed name for a service offering so he gets to stay in the survivors pile.
Betterstreet - The app which enabled you to report broken pavements, fly tipping, over-brimming trash cans and other street-based hazards to your local authority carries on the good fight.
Yambla - Employees can still influence company culture and let their ideas bubble up to the higher management tiers thanks to Yoeri Roels and Jordan Vermeir.
CHEQROOM - I have a soft spot for CHEQROOM. Tracking physical assets is one of the solutions where a QR code actually makes sense. I love that Vincent just started sending out postcards to any relevant company with a starter pack of fabric QR codes to try out. Very glad to see they're still going strong.
uxprobe - The UX testing suite lives on, but under the umbrella of digital consultancy, Tobania. Thanks to Isabelle, Jan and Paul for all the events in Antwerp.
Musestyle - Musestyle morphed into Shopally and is still focussed on fashion influencer marketing in its current guise, Stellar. The founding team of Cathy Pill and Sarah Levin Weinberg remain the same.
Mustr - Raf Weverbergh was another person we interviewed twice, first for his magazine, Whiteboard, and then for his SaaS tool for PR and Press work, Mustr. A true gent.
getsmily - Finally, David Hachez, who we also interviewed a couple of times and another true gent, is no longer at GetSmily / Emolytics, but the company lives on.
The episodes
You can get the archived episodes here in my DropBox. No DropBox account required. Download them, add them to your own DropBox or simply click on the file and listen to it online. It was 10 years ago so apologies for the audio quality and my sometimes stupid line of questioning.
Honourable Mentions
Thanks to Andrew Matheson who joined me along the way, knew it would be too much work, but did it anyway. Any errors in this article are mine, not his.
Thanks also to Leo Exter and Ramon Suarez who included me in those early, energy packed editions of Startup Weekend Brussels, Boostcamp, FI, BetaGroup, the "Hack" series and supported us with recording space. I think you helped a lot of those startups to .... start.
For getting me out of Brussels to Flanders more often, thanks to grand wearer of BizCamp t-shirts and sales meister Tjorven Denorme
And thanks to all the interviewees who gave up their time, the most precious assets you have when creating a startup. Not everyone survived, but you all tried.
Those that didn't make it
Crowdfunding Europe, CheckThis, Lovely Charts, Grant Snap, Djengo, Paycento, Sybil / Pull Review, WonderGraphs, tagtagcity, Meal Queen, iCourses, Kukoo, Whiteboard, Hack for Health
What no comment section?
Nah, hit me up on my foul-mouthed twitter account or LinkedIn.